Microjet homogenizer
Working Principle:
When liquid goes through the one way valve, it will be pressured in the chamber. the plunger push the liquid pass the diamond nozzle. Then the liquid was combined with kinetic energy. three actions will arise: impact the chamber wall, explosion to high shearing, liquid impacted each other. Then the ingredients' size will be decreased. After recycle several times, then can achieve the required particle size.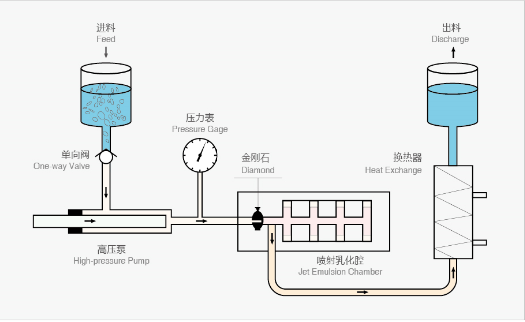 Advantages;
Electric- liquid controlled movement. With the safety condition, special designed chamber, can achieve the pressure max in 45000psi, ensure the efficiency for nano scale shearing. Can be recycled homogenizing.
Nozzle: the core material of Nozzle is diamond. The sealing design is tapered.it can keep the sealing efficiency in long life with super high pressure.
Cooling system: the machine was connected with chilling water, can control the liquid temperature at required level -20℃---50℃。

*Applications
Fat emulsion, liposome emulsion, nanoscale suspension,
Cell rupture
Food, cosmetic's homogenizing.
New energy product (graphene battery slurry, solar panel slurry